Black Panther, 2018.
Directed by Ryan Coogler.
Starring Chadwick Boseman, Michael B. Jordan, Lupita Nyong'o, Danai Gurira, Martin Freeman, Daniel Kaluuya, Letitia Wright, Winston Duke, Angela Bassett, Forest Whitaker, Sterling K. Brown, Florence Kasumba, John Kani, and Andy Serkis.
SYNOPSIS:
T'Challa, after the death of his father, the King of Wakanda, returns home to the isolated, technologically advanced African nation to succeed to the throne and take his rightful place as king.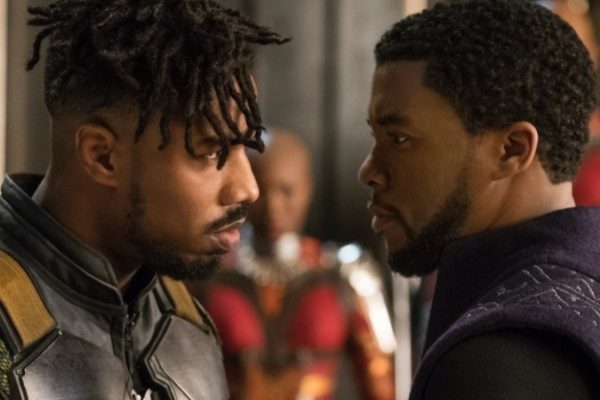 Although this entry of the Marvel Cinematic Universe is titled Black Panther and serves as his first solo outing, T'Challa, now King of Wakanda following Captain America: Civil War's explosion that took his father's life, isn't the larger-than-life character that's left seared into your brain. That honor goes to Michael B. Jordan's (a frequent collaborator for director and co-writer Ryan Coogler of Fruitvale Station and Creed notoriety) embodiment of hatred dubbed Killmonger, a rare accomplishment for Marvel's massive world-spanning countries and galaxies. He isn't just one of the only villains (a word I actually hesitate to use in this situation) worth a damn across all 15 blockbusters, or even just the beating heart to the movie (watch in awe at his arresting presence founded on cocky swag and lustful revenge); his depth and complexity as a wronged and broken man with no allegiances (outside of a criminal one with Andy Serkis' returning Ulysses Klaue for mutual gain) is enough to propel Black Panther in the highest echelon of comic book fare transcending the genre in the process.
Seriously, come for Black Panther and stay for Killmonger. The issue (and it's the only notable flaw in the entire movie) is that for roughly the first hour he is neither seen nor heard. Killmonger receives minimal screen time in the first half, mostly carrying out orders for the aforementioned Ulysses Klaue, who is played with enough unhinged scenery chewing by Serkis to counterbalance his generic bad guy persona consisting of boring motives, but still leaves you wanting to dropkick his ass right out of the movie so Michael B. Jordan can enter the spotlight. If the African landscape of Wakanda, invisible to the naked eye yet brimming with futuristic technology that could better the entire planet as a whole, is a not-so-subtle but beautifully depicted metaphor for representation, then Killmonger is a manifestation of African-American pain from the past and present. Obviously, his actions are questionable and sometimes highly disturbing, but I'll be damned if his cause and plight aren't one of the most sympathetic ever put to movies for a villain. Also, it needs to be said again; Michael B. Jordan owns this role and deserves awards consideration (I don't care if it's too early to start talking about it yet, he continues to turn in top-notch performances marking him as one of the brightest young actors working today).
Now that I got all that off my chest (I'm sure I'll just end up talking about Killmonger again), Black Panther/T'Challa is also fascinating but in a more safe Marvel way. Although, considering the majority of the experience takes place in Wakanda, that part of it feels unlike anything in the universe thus far; the geography is simply stunning, especially when given overhead vantage points of the mountainous landscape or utilizing a ritualistic battleground surrounded by a towering waterfall edge making for some added intensity to specific flights, and the original soundtrack composed of music by Ludwig Goransson (another name familiar to Ryan Coogler's projects) and featuring additional songs from Kendrick Lamar spice up traditional tribal tunes, sometimes with synthesized beats; all of it results in an enchanting blend of authenticity and visually striking sci-fi aesthetics.
Account for the five different warrior factions (one of them resides in hiding, refusing to cooperate with Wakanda's established order) and the proposed ideas that T'Challa and Killmonger combat over and have something deeply personal to many African Americans, but for the first time lensed from a superhero fantasy perspective. And that's why Black Panther is generating the grandstanding buzz of cultural importance; it isn't the first black superhero movie, but it is the first one made up with a majority of black characters and also deals with material that will carry much more emotional heft to those that can relate. Again, once Coogler is able to break free from the shackles of endlessly retreaded Marvel ground, he puts T'Challa and Killmonger on a gutting life or death collision course where there can be one true king. It helps that he isn't forced to cram in other Marvel superheroes, allowing him to tell a self-contained story that stands on its own as masterful.
In addition to Michael B. Jordan's magnetic performance, Chadwick Boseman continues his string of fantastic acting (not exclusive to the MCU) imbuing T'Challa with a humbled and dignified demeanor; he's all about doing the right thing while maintaining honor and nobility. Advising and supporting him are also a strong-willed family eliciting those same qualities, and they also get a sizable amount of action. They aren't necessarily the most developed of characters, but Lupita Nyong'o shines as his ex-girlfriend Nakia (most notably in an early rescue set-piece), Letitia Wright's technology specialist sister Shuri offers comedic relief (be prepared for fits of laughter when Martin Freeman's CIA operative Everett Ross ends up in Wakanda) and is allowed to step out from safety to bust some heads, and Angela Bassett puts in solid work as the wise mother that shaped T'Challa into the morally upstanding man he is. Forest Whitaker, Daniel Kaluuya, Sterling K. Brown and more delivered memorable supporting performances; one particular death is executed with the proper gravitas.
Also, and it shouldn't come as a surprise for a Marvel extravaganza, but the action is choreographed superbly with multiple wide angles and a few impressive tracking shots that further engage audiences whether it is an elaborate Korean car chase sequence or the final act's all-out final large-scale war. The CGI is also fairly realistic looking (Killmonger scars up his body for every one of his confirmed kills in the military, but unnecessary beasts like fantastical rhinos joining the fray feel a little out of place in context with the narrative), masking whatever green screen technology that may have been used quite effectively. However, the battles themselves are what separates this from standard Marvel fare; it is a hard-hitting, brutal film emphasizing every claw slice and bone-crunching body blow (trial by combat to challenge the king for the throne is done by forcing Black Panther to down an elixir that drains him of his superpowers), powerfully upping the drama behind these personal clashes.
Last year I wrote something along the lines of saying that past important historical figures such as Jackie Robinson and Thurgood Marshall are the real heroes that Chadwick Boseman is portraying. I have to retract that statement as I vastly underestimated just how poignant, socially relevant, timely, and empowering Black Panther would be. It's a movie that opens and closes with a shot of urban African-Americans playing some outdoor basketball, with the difference being that by the end of the movie they have hope and someone to look up to in the form of Black Panther. To be fair, it doesn't end there, he's a superhero with the capabilities of inspiring us all.
Flickering Myth Rating – Film: ★ ★ ★ ★ / Movie: ★ ★ ★ ★ ★
Robert Kojder is a member of the Chicago Film Critics Association and the Flickering Myth Reviews Editor. Check here for new reviews, friend me on Facebook, follow my Twitter or Letterboxd, check out my personal non-Flickering Myth affiliated Patreon, or email me at MetalGearSolid719@gmail.com