Robert Kojder chats with The Death of Stalin director Armando Iannucci…
The Death of Stalin continues to expand its theatrical reach this weekend, and to coincide with that I was given the opportunity to interview its director, the very talented Armando Iannucci. I have a feeling you will find his answers just as amusing as his work on the film and the award-winning HBO series Veep. He's very relaxed and certainly gives honest and fun answers. Enjoy!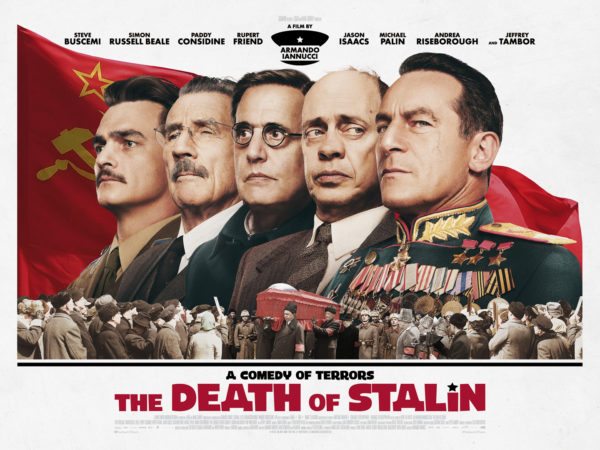 What compelled you to satirize the death and its aftermath of Stalin?
AI: I was sent the book – a French graphic novel. I'd been thinking at the time of doing something about a contemporary dictator, so was reading up on Mao, Mussolini, y'know, all the classics. But when I got sent the French graphic novel I immediately decided this would be the film, because it had all the themes of horror and madness and yet it was true.
One of my favorite elements of the movie is the silliness of a New Yorker like Steve Buscemi playing Nikita Khrushchev and generally the non-Russian cast. What inspired that creative decision?
AI: Although it's set in Moscow in 1953, I wanted it to feel very much here and now. It's made primarily for an English speaking audience, and I thought getting British and American actors to put on fake Russian accents would make it a little bit more removed. Also, it wasn't just Russia but the Soviet Union, which was a vast empire using many languages and dialects.
Was it easier to adapt the graphic novel with multiple writers on board? Some comedies usually suffer from that.
AI: Do they? No, it was very easy because I've worked with all the writers very closely before.
Were different writers assigned different characters?
AI: No. But what we do is, we tend to confer periodically together, write separately and then pass each other's stuff around, so that each sentence has probably been written and rewritten by four different people on four different occasions.
The film feels like a highly calculated stageplay with brilliant actors bouncing jokes off one another. Can you talk about achieving that?
AI: Well it's interesting that you mention stageplay, as we did two weeks of rehearsals with most of the cast, a couple of weeks before the shoot. That allowed us to rehearse the very complicated ensemble scenes, so that when we come it we could shoot the scenes in one continuous take.
Towards the end, the film becomes increasingly darker due to Beria's sexual crimes, and even today politicians are caught up in sexual allegations. Can you discuss how you approached handling that in a respectful but hilarious way?
AI: Well, I wouldn't say it was hilarious at any point in the film, in that I think that with all the atrocities we filmed them for real rather than for comedy. The comedy takes place inside the Kremlin and the reality takes place outside.
Can you talk about the Russian ban and what you think it will take to get it lifted?
AI: I think it's weird, in that it's clearly not going to work. Russians are very good at getting through blocked sites, so it's already doing a roaring trade online.
I noticed that for reasons we won't get into Jeffrey Tambor is now removed from various posters. Obviously, I agree with the decision but isn't that such a Stalin thing to happen? Your satire has expanded beyond the movie itself.
AI: Should you agree with the decision? I don't. And he's back on the posters. In fact, there are several posters because we have such a wide cast, and we have different posters showing different members of the cast.
My favorite performance is Jason Isaacs as the loudmouth brash General Zhukov. How did you help get him that unhinged and wild?
AI: I'm not sure he needed much help. He always was gonna be the loud one who comes in halfway through and tries to sort everything out. The loud one with the medals.
I noticed that the only sympathetic characters are the women. Can you talk about that creative decision and how it still relates to current events in ways?
AI: Yes, it is interesting that all of them are outside the brutality, but have to deal with it in one way or another. For me, Svetlana – Stalin's daughter – is the emotional heart of the film, in that try as she might, she can never get away from Stalin's shadow.
Was it important that your Veep composer joined this project? The music is certainly good.
AI: Yes, because I knew Christopher Willis was classically trained and I talked to him in advance about soviet symphonic music. He immediately dug out scores by Shostakovich, Prokofiev and others, to come up with something that sounded of its time and yet was our score. I'm glad you liked it. I think the music plays a very important part in the film.
What's the most interesting Josef Stalin fact you learned making this movie
AI: That he liked to watch cowboy movies at one o'clock in the morning. They were American prints, so not dubbed, and he would have a translator stand next to the screen, translating live. One translator didn't speak English so just memorized the dialogue and hoped he was translating it in sync.   
Down the road would you ever make a film skewering the Trump administration, and if so, who would you cast as the controversial President?
AI: Maybe in 65 years time. I'd cast a very old Timothee Chalamet as Trump.
What can you tell us about any upcoming projects you have?
AI: I start shooting a movie version of Charles Dickens's novel David Copperfield in a couple of months time, which is going back even further into the past, to 1840. And I'm doing a sci-fi comedy for HBO, set in forty years time. So I seem to be running away from the present day as fast as possible…
Many thanks to Armando Iannucci for taking the time for this interview.
You can read my review of The Death of Stalin here.
Robert Kojder is a member of the Chicago Film Critics Association and the Flickering Myth Reviews Editor. Check here for new reviews, friend me on Facebook, follow my Twitter or Letterboxd, check out my personal non-Flickering Myth affiliated Patreon, or email me at MetalGearSolid719@gmail.com