Despite the fact that Marvel Television frequently reminds us that "It's All Connected", Marvel's Agents of S.H.I.E.L.D. deviated from the script with last week's season finale opting to ignore the climax of Avengers: Infinity War, which saw Thanos wreaking devastation on the Marvel Cinematic Universe with 'The Snap'.
Speaking to Entertainment Weekly, Agents of S.H.I.E.L.D. executive producers Jed Whedon, Maurissa Tancharoen and Jeffrey Bell have revealed why they opted to go in a different direction
JED WHEDON: There's some of that we can't answer.
JEFF BELL: Part of what happened was, they changed the release date, and we move at a different schedule than they do and so suddenly everything was a week earlier, and so we had to make some adjustments and that's how we end up with our story.
WHEDON: Right. And the other thing is that there's certain story points that are so – there would really be no way for us to address it and keep our show intact. Given that there's another movie coming out, and there's gonna be constant repercussions of their universe, so what we felt was that the safe play for our story, and for the integrity of our universe, was to operate outside of it.
BELL: To acknowledge it was happening, but that we had our own problems and we're dealing with that.
WHEDON: Right, and also the timeline is a little bit fudged in that we assume that the last couple of episodes of our show take place during Infinity War. We're running in a lot of real-time at the end of the season.
MAURISSA TANCHAROEN: The last four [episodes] all in real-time.
WHEDON: Yeah, so we sort of thought of it as these events are still ongoing as our season ends.
So, by that logic, Thanos' finger snap would take place after the events of the season five finale, and with Agents of S.H.I.E.L.D. not set to return until after the release of Avengers 4, we can probably assume that any damage will have been reversed by the time season six gets underway.
SEE ALSO: How the directors of Avengers: Infinity War chose which characters died
SEE ALSO: Avengers: Infinity War directors reveal the off-screen fates of MCU supporting characters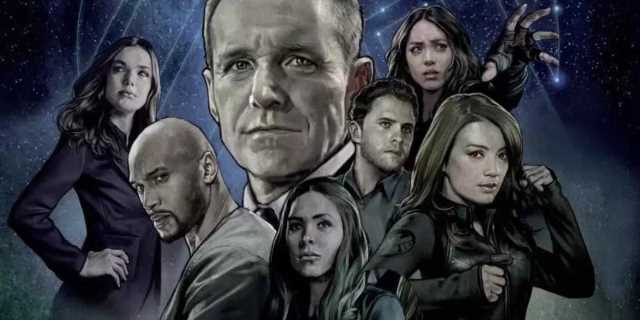 An unprecedented cinematic journey ten years in the making and spanning the entire Marvel Cinematic Universe, Marvel Studios' "Avengers: Infinity War" brings to the screen the ultimate, deadliest showdown of all time. The Avengers and their Super Hero allies must be willing to sacrifice all in an attempt to defeat the powerful Thanos before his blitz of devastation and ruin puts an end to the universe.
Avengers: Infinity War stars Robert Downey Jr. (Iron Man), Chris Evans (Captain America), Mark Ruffalo (Hulk), Chris Hemsworth (Thor), Scarlett Johansson (Black Widow), Chadwick Boseman (Black Panther), Tom Holland (Spider-Man), Sebastian Stan (Winter Soldier), Anthony Mackie (Falcon), Paul Bettany (Vision), Elizabeth Olsen (Scarlet Witch), Don Cheadle (War Machine), Josh Brolin (Thanos), Benedict Cumberbatch (Doctor Strange), Benedict Wong (Wong), Chris Pratt (Star-Lord), Zoe Saldana (Gamora), Dave Bautista (Drax), Bradley Cooper (Rocket), Sean Gunn (Rocket), Vin Diesel (Groot), Karen Gillan (Nebula), Pom Klementieff (Mantis), Tom Hiddleston (Loki), Samuel L. Jackson (Nick Fury), Cobie Smulders (Maria Hill), Benicio Del Toro (The Collector), Danai Gurira (Okoye), Letitia Wright (Shuri), Winston Duke (M'Baku), Terry Notary (Cull Obsidian), Tom Vaughan-Lawlor (Ebony Maw), Carrie Coon (Proxima Midnight), Michael James Shaw (Corvus Glaive) and Peter Dinklage (Eitri).