Tori Brazier reviews the season 3 finale of Lucifer…
Sometimes the plot manoeuvres of Lucifer are so clunky that you almost see the scenery wobble and the actors blink, desperate as they are to sell the sudden leaps in development now we're at the season finale and things really need to get somewhere. It's a good job a couple of long-standing stories are wrapped up too because – as it stands – that's the last we'll be seeing of Lucifer, following its cancellation by Fox.
Opening minutes after the previous episode finished, with the dramatic shooting of Charlotte Richards (Tricia Helfer), killer Pierce (Tom Welling) is on the scene in his 'Lieutenant' guise, reassuring the troops of justice and a hunt far and wide for the murderer. Awks. A grieving but motivated Dan (Kevin Alejandro) is the first out of the gate in terms of making proper progress in the case, as he discovers Charlotte's investigation into Pierce back at her flat, and thereby discovers that he is the Sinnerman. Returning to the precinct, it's not difficult for Dan to persuade Lucifer (Tom Ellis) of his guilt, seeing as he already knew about the Sinnerman part (much to Chloe and Dan's annoyance) and especially once Lucifer remembers Pierce's relief at being shown Amenadiel's (D.B. Woodside) feather at the crime scene. Chloe (Lauren German) should be a bit more difficult to convince – until a clumsy bit of plot exposition, when she explains that Pierce never shows emotion and so the teary speech he delivers to the department clearly proves his guilt… Yeah, okay. At least she got there.
Maze (Lesley-Ann Brandt), meanwhile, is busy proving her loyalty to Linda (Rachael Harris) as she fights to escape her imprisonment in Pierce's apartment (Safe house? Den? Torture basement?) in order to check on her friend's safety. After taking down a series of burly and well-armed men, she makes it to Linda's office to find her perfectly fine and in the middle of a therapy session with a client. At least her taking down of 12 men and running four miles to get there (and fully realise her emotions) repairs their friendship, so if this is the last time we see Linda and Maze then they have made amends and are in a happy place.
With Dan, Chloe and Lucifer now plotting to expose Pierce, the twists of their hunt become a little fresher and less predictable. Thankfully they recruit Ella (Aimee Garcia) after they work out Pierce has begun planting false evidence at the scene to cover his tracks, and get her to give him the burner phone they've recovered from one of his debtors, claiming Dan asked for it to be looked at by her in secret. That innocent face fools anyone! This neatly leads Pierce's Sinnerman colleague to our team, where they apprehend him and push him for information. Remaining true to Lucifer's celestial vibe, however, it transpires that Charlotte's death has taken its toll on the ever-faithful Ella, and after a heart-to-heart with Lucifer – who has ironically come around to thinking that he may himself be responsible for his own actions, rather than being a puppet to his Father – she declares her relationship with God "on rocky ground".
In one of the episode's best reveals, Pierce's hitman reluctantly agrees to give up information on Pierce to Dan, in return for the guaranteed safety of his own sister – a sister, it then turns out, who doesn't exist. Lucifer and Chloe turn up at the address only to be met by an ambush from Pierce and his team of gun-wielding associates.
Although Chloe has berated Lucifer for what she perceives to be his constant "metaphors" when it comes to his identity as the Devil and so on and so forth, and almost convinced him in the process to maybe let it go, she can surely be glad of his divine nature when Pierce and his pals open fire to attempt to kill Lucifer. Having stood in front of him, his primal desire to instead protect her sees his wings burst out and surround Chloe, shielding her from the hail of bullets – although only after she's taken one in the chest. Luckily a bulletproof vest saves the day, and Lucifer leaves her safely on the roof so that he can return to take on Pierce (well, 'Cain' really) one last time with no vulnerabilities. It turns out wings and the propulsion of wind they produce come in handy when taking down nameless cronies with ease – but he approaches Cain man to man (although Cain has brought along one of Maze's blades, which could still kill Lucifer – cheat). They tussle, but it's more interesting what is said than done. Once Lucifer gets the death jab in, Cain crows at his chance to go to Heaven as he has no regrets – not even the accidental killing of Charlotte. Lucifer presses than he can't "outrun what you've done" and that he knows, deep down, that he's a monster – but in Cain's final breath he turns it all around on Lucifer. This doubt in his goodness, as well as his belief that he is now in charge of his own worthiness, reveals Lucifer's 'devil face' once more, and this time in its full glory – just as Chloe makes it into the room and is confronted with Lucifer's truth being the actual truth.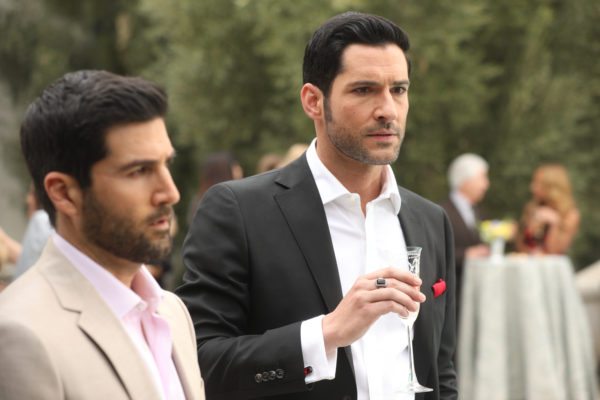 Thus, here things will end for Lucifer unless another networks picks up the show and we get to see Chloe deal with the ramifications of working with – and loving – the Devil. Could be juicy. And it's about time.
Tori Brazier