Rogue One: A Star Wars Story writer Gary Whitta says that he is "disgusted" by how Rian Johnson was treated by some audience members over Star Wars: The Last Jedi.
There's little question that some of The Last Jedi's most vocal critics weren't shy in dishing out abuse towards those involved with the movie, especially towards director Rian Johnson.
Gary Whitta, a writer of Rogue One, has recently spoken to JediNews about his thoughts on the movie and the backlash that Johnson received from some fans: "I think what you mean by that when you say 'the fans' is actually 'a very noisy minority of fans. Look, I would not necessarily have made every choice that Rian made because I'm not the same person or writer or fan that he is, but I respect and admire and appreciate and support every choice he did make. The film he wrote is far braver and more mature and more challenging than I could ever have written.
"I suspect that I would have written a more fan service-driven film that would have appeased some of that noisy minority but ultimately would have been a lesser and less important film because of it. Frankly, I'm disgusted by the treatment that Rian has received, he's not just one of the most talented filmmakers working today but one of the nicest people you could ever hope to meet in any walk of life, and both he and the film he made deserve far better."
It's quite clear that Whitta isn't impressed with the way Johnson was treated by a portion of The Last Jedi's audience, even though he admits he would have written a different type of movie himself. What do you think about Whitta's comments? Did some fans go too far in their criticisms?
SEE ALSO: Can We Stop Saying The Last Jedi is 'too different' from Star Wars canon?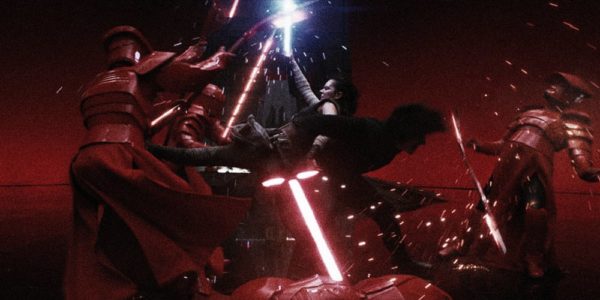 In Lucasfilm's Star Wars: The Last Jedi, the Skywalker saga continues as the heroes of The Force Awakens join the galactic legends in an epic adventure that unlocks age-old mysteries of the Force and shocking revelations of the past.
Star Wars: The Last Jedi sees returning cast members Mark Hamill (Luke Skywalker), Carrie Fisher (Leia Organa), Adam Driver (Kylo Ren), Daisy Ridley (Rey), John Boyega (Finn), Oscar Isaac (Poe Dameron), Lupita Nyong'o (Maz Kanata), Domhnall Gleeson (General Hux), Anthony Daniels (C-3PO), Gwendoline Christie (Captain Phasma), Billie Lourd (Lieutenant Connix), Andy Serkis (Supreme Leader Snoke), Peter Mayhew and Joonas Suotamo (Chewbacca), Tim Rose (Admiral Ackbar), Mike Quinn (Nien Nunb) and Warwick Davis joined by new additions Jimmy Vee (Pan) as R2-D2, Kelly Marie Tran (Ladies Like Us) as Rose, Benicio Del Toro (Guardians of the Galaxy) as DJ and Laura Dern (Jurassic Park).