Kevin Smith has offered some interesting analysis of Thanos in Avengers: Infinity War, saying the villain is actually a hero.
The crimes committed by Thanos in Avengers: Infinity War, let alone over his villainous career, were pretty horrific and beyond anything enacted by past bad guys in the Marvel Cinematic Universe.
Lest we forget, this is a monster who wiped out half of the universe because he thought there were too many people. This, however, could earn Thanos hero status according to beloved filmmaker Kevin Smith.
When asked to pick a team of heroes he opted to give Thanos a spot, saying on his Fatman on Batman podcast: "Controversial choice, Thanos. From a certain perspective he's a hero. He could have literally wiped out everybody with one snap. I call that mercy."
It's certainly an interesting theory but fans might beg to differ about his hero status. What do you think? Is Thanos merciful for deciding not to murder everyone and only some people?
SEE ALSO: Marvel passes $4 billion global box office for the year with Black Panther, Avengers: Infinity War and Ant-Man and the Wasp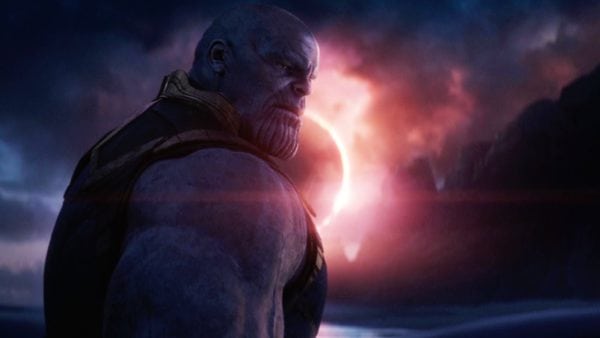 An unprecedented cinematic journey ten years in the making and spanning the entire Marvel Cinematic Universe, Marvel Studios' "Avengers: Infinity War" brings to the screen the ultimate, deadliest showdown of all time. The Avengers and their Super Hero allies must be willing to sacrifice all in an attempt to defeat the powerful Thanos before his blitz of devastation and ruin puts an end to the universe.
Avengers: Infinity War stars Robert Downey Jr. (Iron Man), Chris Evans (Captain America), Mark Ruffalo (Hulk), Chris Hemsworth (Thor), Scarlett Johansson (Black Widow), Chadwick Boseman (Black Panther), Tom Holland (Spider-Man), Sebastian Stan (Winter Soldier), Anthony Mackie (Falcon), Paul Bettany (Vision), Elizabeth Olsen (Scarlet Witch), Don Cheadle (War Machine), Josh Brolin (Thanos), Benedict Cumberbatch (Doctor Strange), Benedict Wong (Wong), Chris Pratt (Star-Lord), Zoe Saldana (Gamora), Dave Bautista (Drax), Bradley Cooper (Rocket), Sean Gunn (Rocket), Vin Diesel (Groot), Karen Gillan (Nebula), Pom Klementieff (Mantis), Tom Hiddleston (Loki), Samuel L. Jackson (Nick Fury), Cobie Smulders (Maria Hill), Benicio Del Toro (The Collector), Danai Gurira (Okoye), Letitia Wright (Shuri), Winston Duke (M'Baku), Terry Notary (Cull Obsidian), Tom Vaughan-Lawlor (Ebony Maw), Carrie Coon (Proxima Midnight), Michael James Shaw (Corvus Glaive) and Peter Dinklage (Eitri).