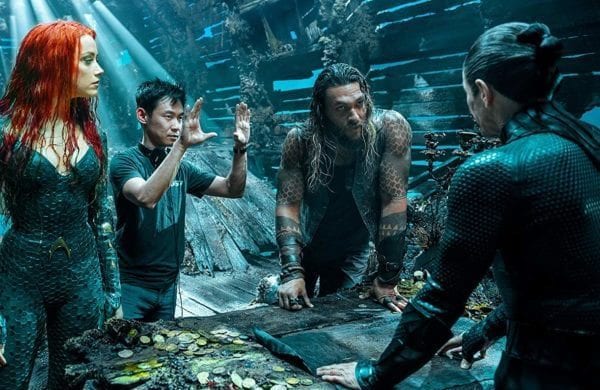 The Academy of Motion Picture Arts & Sciences recently announced the shortlists for several categories at the upcoming 91st Academy Awards, including the Oscar for Best Visual Effects.
Ten films remain in contention ahead of the nominations – Ant-Man and the Wasp, Avengers: Infinity War, Black Panther, Christopher Robin, First Man, Jurassic World: Fallen Kingdom, Mary Poppins Returns, Ready Player One, Solo: A Star Wars Story and Welcome to Marwen – and, in director James Wan's opinion, it's "a fucking disgrace" that the DC blockbuster Aquaman has been overlooked.
Responding to a comment on his Facebook page from VFX supervisor Kelvin McIlwain, Wan stated: "Kelvin, you and your department are the unsung heroes of this film. The fact that your VFX peers in the Academy aren't recognizing or appreciating what we/you've all contributed to the film and cinema is a fucking disgrace."
SEE ALSO: James Wan on bringing horror to Aquaman with the Trench
There's no doubt that the visual effects team did some fantastic work realising the underwater kingdom of Atlantis, and so it's easy to see why Wan might feel frustrated that the Academy has overlooked Aquaman. How do you feel the film's effects stack up against the other movies on the shortlist? Is it worthy of a nomination in your opinion? Let us know in the comments below…
From Warner Bros. Pictures and director James Wan comes an action-packed adventure that spans the vast, visually breathtaking underwater world of the seven seas, "Aquaman", starring Jason Momoa in the title role. The film reveals the origin story of half-human, half-Atlantean Arthur Curry and takes him on the journey of his lifetime — one that will not only force him to face who he really is, but to discover if he is worthy of who he was born to be … a king."
Aquaman is directed by James Wan (The Conjuring) and stars Jason Momoa as the titular hero, reprising his role from Batman v Superman: Dawn of Justice and Justice League, along with Amber Heard as Mera, Patrick Wilson as Ocean Master, Willem Dafoe as Dr. Vulko, Yahya Abdul-Mateen II as Black Manta, Dolph Lundgren as King Nereus, Nicole Kidman as Atlanna, Temuera Morrison as Tom Curry, Ludi Lin as Murk, Michael Beach as Jesse Kane, Djimon Hounsou as the Fisherman King, Randall Park as Dr. Stephen Shin, Otis Dhanji as a young Arthur Curry, Julie Andrews as Karathen and Graham McTavish as King Atlan.
Via CBR