Martin Carr reviews the first episode of Preacher season 4….
That swagger and arrogant confidence which comes with a certain level of certainty is back. As Rogen, Goldberg and Catlin turn the screw one more time we are welcomed back into a world of penile torture, incarcerated angels and helmet headed dictators. Couple that with a break out from an impregnable fortress, some girl on girl hand to hand action and smatterings of red band banter to make this opener pure Preacher.
Whether the idea of consciously decapitated corpses is for you or not there is a flagrant disregard for scruples which makes Preacher that essential breathe of fresh air we all need. That this show circumvents any restrictions by constantly redefining the line is worthy of note. Defined by an imagination which goes from puerile adolescent humour through to wincingly present torture, it confidently negotiates the tonal line through using sarcasm and gallows humour. That a majority of this episode feels like a cross between Life of Brian and The Raid without directly referencing either is commendable.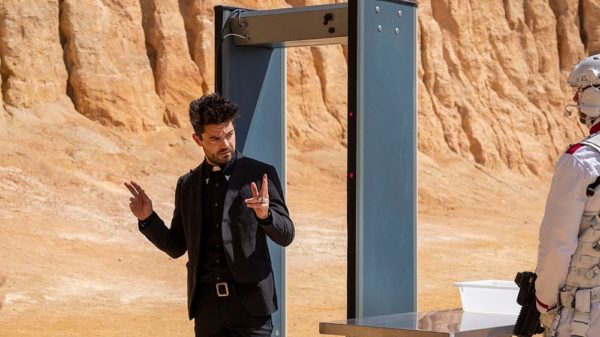 This ensemble cast ground the action through believable character beats which somehow temper those sacrilegious elements, which might have some turning up with flaming torches. By expanding on the Grail backstory, opening up potential avenues whilst giving Starr and Featherstone more screen time things feel more rounded. Mushroom cloud laying dream sequences, cloak and dagger moments between claret soaked fight scenes and pathos laden segues tie into emotional reactions tying everything together.
Outside of the central action other bit part players wait it out. With a five o'clock shadow, full length trench coat and hell at his command the Saint of Killers journeys on with company. That an embodiment of preordained destiny should be travelling with a companion such as this is nothing short of intriguing. Religious institutions, sacred doctrines and cults defined by a singular figurehead are all under fire here for those brave enough to look.
Played straight, played with commitment and eliciting no fear, Preacher remains the trailblazer kicking open those doors for others to storm in. Uncompromising, well informed and arguing the point from a highly literate position this final season has already started lighting fires. This opener offers up brave choices, inflammatory images and inferences guaranteed to offend the unprepared. For everyone else this feels like a homecoming with one hard R rating.
Martin Carr