We can start calling Star Wars: The Last Jedi the official most divisive Star Wars film ever, according to calculations by a Reddit user.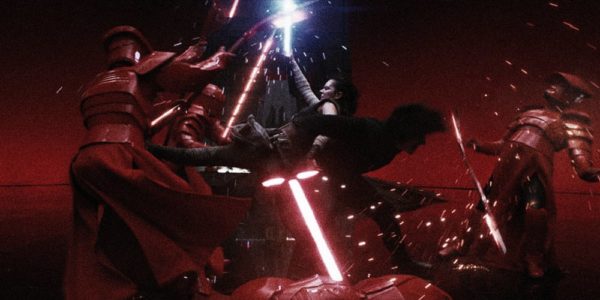 The Last Jedi continues to climb the box office charts and will likely pass the $600 million mark at the North American box office this weekend. However, fan reaction has been largely split, with some loving the film, but others outright detesting it.
Now we can say "officially" that The Last Jedi is the most divisive Star Wars film, however, as Reddit user TheNeptunianSloth has made some mathematical calculations using IMDb rating data for the films in the franchise.
"What I did was I calculated the standard deviation from each film's set of ratings, which is a way of measuring how much the numbers, on average, deviate from the arithmetic mean of the set," the user described. "A typical standard deviation will generally be between 1 and 3. So the higher the standard deviation, the more divisive the film is."
What all this means is that, using maths, the user was able to utilise the IMDb rating data and create a ranking of the Star Wars films, with the higher number equalling the most divisive film, which you can see below:
The Last Jedi – 2.696
The Phantom Menace – 2.062
Attack of the Clones – 1.914
Revenge of the Sith – 1.837
Return of the Jedi – 1.695
The Force Awakens – 1.612
A New Hope – 1.602
The Empire Strikes Back – 1.517
Rogue One – 1.405
"Although The Last Jedi doesn't have quite as many ratings as, for instance, the originals, we now have mathematical proof that TLJ is in fact the most divisive film in the series so far, and as a matter of fact by a long shot," the Reddit user declared.
SEE ALSO: Rian Johnson explains the absence of the Knights of Ren in Star Wars: The Last Jedi
In Lucasfilm's Star Wars: The Last Jedi, the Skywalker saga continues as the heroes of The Force Awakens join the galactic legends in an epic adventure that unlocks age-old mysteries of the Force and shocking revelations of the past.
Star Wars: The Last Jedi sees returning cast members Mark Hamill (Luke Skywalker), Carrie Fisher (Leia Organa), Adam Driver (Kylo Ren), Daisy Ridley (Rey), John Boyega (Finn), Oscar Isaac (Poe Dameron), Lupita Nyong'o (Maz Kanata), Domhnall Gleeson (General Hux), Anthony Daniels (C-3PO), Gwendoline Christie (Captain Phasma), Billie Lourd (Lieutenant Connix), Andy Serkis (Supreme Leader Snoke), Peter Mayhew and Joonas Suotamo (Chewbacca), Tim Rose (Admiral Ackbar), Mike Quinn (Nien Nunb) and Warwick Davis joined by new additions Jimmy Vee (Pan) as R2-D2, Kelly Marie Tran (Ladies Like Us) as Rose, Benicio Del Toro (Guardians of the Galaxy) as DJ and Laura Dern (Jurassic Park) as Vice Admiral Holdo.