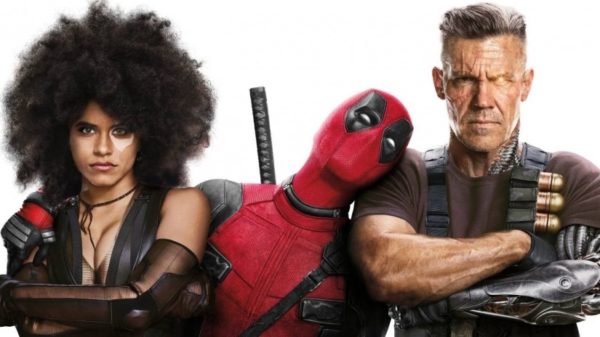 As Deadpool 2 begins its international rollout, Deadline is reporting that Fox's hotly-anticipated superhero sequel can expect to pull in a global opening weekend of between $305 million and $350 million.
Tracking for the film's domestic weekend suggest an opening in the region of $130 million and $150 million, which puts it in the same ballpark as its predecessor (the first Deadpool enjoyed a three-day weekend of $132 million and four-day haul of $152.2 million, a then-record for February back in 2016). Internationally, the sequel can expect to gross a further $175 million to $200 million.
The first Deadpool became the highest-grossing R-rated movie of all time upon its release with $783.1 million. Deadpool 2 is receiving the widest release ever both for an R-rated movie and a 20th Century Fox film, but will face some stiff competition with Avengers: Infinity War still expected to be strong this weekend and Solo: A Star Wars Story incoming next week.
Whether the second movie can match the global success of its predecessor remains to be seen, but all signs point to it getting off to a very solid start.
SEE ALSO: Read our ★★★★ review of Deadpool 2 here
Marvel's motormouth mercenary is back! Bigger, better and occasionally more pantless than ever before. When a super soldier arrives on a murderous mission, Deadpool is forced to think about friendship, family and what it really means to be a hero – all while kicking 50 shades of ass. Because, sometimes, to do the right thing you need to fight dirty.
Deadpool 2 sees David Leitch (John Wick) directing a cast that includes returning stars Ryan Reynolds (Wade Wilson), Morena Baccarin (Vanessa), T.J. Miller (Weasel), Brianna Hildebrand (Negasonic Teenage Warhead), Stefan Kapicic (Colossus), Leslie Uggams (Blind Al) and Karan Soni (Dopinder) alongside new additions Zazie Beetz (Atlanta) as Domino, Josh Brolin (Avengers: Infinity War) as Cable, Terry Crews (Brooklyn Nine-Nine) as Bedlam, Lewis Tan (Iron Fist) as Shatterstar, Bill Skarsgard (It) as Zeitgeist, Rob Delaney (Catastrophe), Julian Dennison (Hunt for the Wilderpeople) as Russell, Jack Kesy (The Strain) as the film's villain, Shioli Kutsuna (The Outsider) as Yukio and Eddie Marsan (Atomic Blonde) in an as-yet-unrevealed role.