Although we're only a little over eight months out from its release, we've seen very little from Marvel's first female-led superhero blockbuster Captain Marvel, save from some early concept art and a few photos of Brie Larson in her prototype costume.
However, it seems we're going to have to be patient for a litle while longer yet, as Marvel Studios chief Kevin Feige has revealed to Comic Book that we're likely still a few months out from the arrival of the first trailer.
"You already know as much as you need to," said Feige. "We've got Skrulls, we've got the Kree, it takes place in the 90s, you have Sam Jackson with two eyes and Carol Danvers, a unique telling of Carol Danvers origin story."
The producer went on to state that "we are about two weeks out from completion of principal photography", so it will be interesting to see if we get any set photos showing Carol Danvers in her classic colours before filming wraps.
SEE ALSO: Brie Larson says Captain Marvel is powerful enough to move planets
SEE ALSO: Captain Marvel isn't like past Marvel origin movies says producer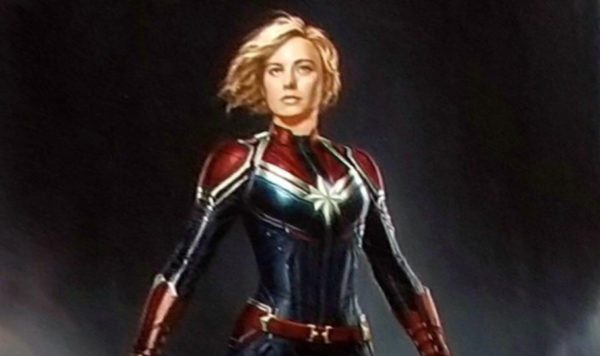 The story follows Carol Danvers as she becomes one of the universe's most powerful heroes when Earth is caught in the middle of a galactic war between two alien races. Set in the 1990s, "Captain Marvel" is an all-new adventure from a previously unseen period in the history of the Marvel Cinematic Universe.
Captain Marvel is being directed by Anna Boden and Ryan Fleck (Mississippi Grind) and sees Brie Larson (Kong: Skull Island) leading the cast as Carol Danvers alongside Samuel L. Jackson (The Avengers), Ben Mendelsohn (Rogue One: A Star Wars Story), Djimon Hounsou (Guardians of the Galaxy), Lee Pace (Guardians of the Galaxy), Lashana Lynch (Fast Girls), Gemma Chan (Fantastic Beasts and Where to Find Them), Algenis Perez Soto (Sambá), Rune Temte (Eddie The Eagle), McKenna Grace (I, Tonya), Annette Bening (American Beauty), McKenna Grace (Gifted), Ana Ayora (The Big Wedding), Vik Sahay (Chuck), Kenneth Mitchell (Star Trek: Discovery),  Clark Gregg (The Avengers) and Jude Law (Fantastic Beasts: The Crimes of Grindelwald).