Back in May, fans of Bill & Ted got the most triumphant news that the long-rumoured Bill & Ted Face the Music was officially a go, with actors Alex Winter (Bill) and Keanu Reeves (Ted) with original Bill & Ted creators Chris Matheson and Ed Solomon for another excellent adventure.
The project appeared all set to be moving towards a January start date under director Dean Parisot (Galaxy Quest) but now, in an interview with Yahoo! Entertainment to promote his new film Siberia, Keanu Reeves has suggested that may not be the case after all.
"I don't know if it's a reality," said Reeves. "We've been trying for a long time to get that film made, and it still has its challenges. I really love the characters, and I think we have a good story to tell. Part of it is show business stuff — financing, rights, deals. Nothing creatively."
Let's hope whatever the issues are they can get sorted quickly, before everyone involved with the project decides it was just never meant to be.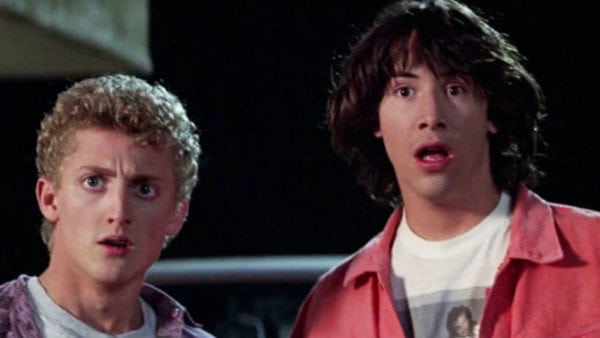 The plot for Bill & Ted Face the Music "will see the duo long past their days as time-traveling teenagers and now weighed down by middle age and the responsibilities of family. They've written thousands of tunes, but they have yet to write a good one, much less the greatest song ever written. With the fabric of time and space tearing around them, a visitor from the future warns our heroes that only their song can save life as we know it. Out of luck and fresh out of inspiration, Bill and Ted set out on a time travel adventure to seek the song that will set their world right and bring harmony in the universe. Together with the aid of their daughters, a new crop of historical figures and some sympathetic music legends, they find much, much more than just a song."