Troop Zero, 2020.
Directed by Bert & Bertie.
Starring Viola Davis, Mckenna Grace, Allison Janney, Milan Ray, Jim Gaffigan, Mike Epps, Ashley Brooke, Johanna Colón, Bella Higginbotham, Charlie Shotwell, and Edi Patterson.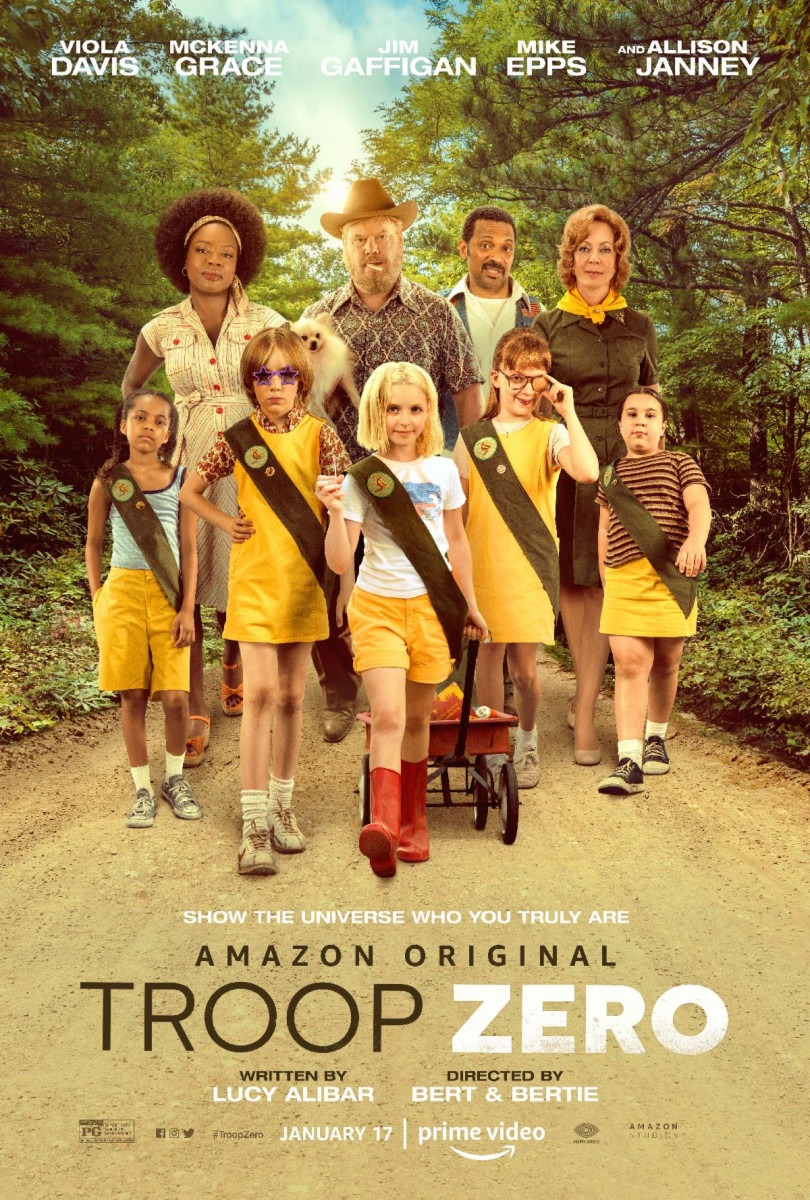 SYNOPSIS:
In a tiny Georgia town in 1977, a motherless girl dreams of life beyond the confines of her trailer-park home in Troop Zero. When her quest for connection leads her to reach for the stars in a competition to be included on NASA's landmark Golden Record, it becomes clear she will have to depend on some new friends to take her the last mile.
In plenty of ways, Troop Zero is a more resonant David Bowie-inspired movie than some that actually claim to be inspired by the legendary artist. Starring Mckenna Grace (who once again shines for her age, turning in a performance that is equal parts inspirational and demanding given the thick southern accents on display), Christmas Flint is attention-grabbing as a young girl obsessed with the stars and everything beyond. Unfortunately, her fascinations also render her a misfit rumored to still wet the bed. Life is made harder having already lost her mother, but thankfully she does have a struggling and hard-working father played by Jim Gaffigan, whose assistant Rayleen (Viola Davis, taking this family-friendly material seriously layering her character with desires and dreams of her own) now serves as the mother figure.
It's not long before the Birdie Scouts are offered an opportunity to have a recording of themselves sent into space for a NASA project, which expectedly nudges Christmas into exploring her options regarding putting together a team to win the dance competition where the prize is the aforementioned honors. Naturally, she puts together a group of similar outcasts (a one-eyed girl, for example) that might not all be interested in space such as her, but could all use some friendship and escape from loneliness.
Directed by Bert & Bertie and written by Lucy Alibar, Troop Zero is about as straightforward as you can get for an oddball comedy, but this PG-rated flick also has some grit and honesty to it allowing for certain elements to come across more impactful. The opposing Troop Five (which consists of some nasty popular kids encouraged to be that way by a somewhat comically over-the-top evil Allison Janney as their leader) don't understand why these rejects are signing up and especially why they have a boy with them or an African-American girl (a nice touch considering the location in 1970s setting). As such, insults are dished out that come not from the modern-day, but even a family-friendly movie from the here and now; some of the remarks are vulgar and quite hurtful. That's not to say there's a lot of strong language, but there is certainly more than I have ever heard in a long time for a PG movie.
Anyway, as the bullying commences, the newly founded troops search the remaining badges for simple tasks that each individual can accomplish. This ranges from selling Girl Scout cookies to baking (there is also a hilarious food fight that just simply fits the vibe and tone) and more, including a group session where the girls look after one another camping out in the woods. It's also worth pointing out that the stark yellow colors make for a palette that both feels retro and Georgian. Nevertheless, these sequences eat up some of the running time while earning a brief laugh here and there. What's surprising is that talk of outer space and the stars take a backseat to the friendship (understandably so I suppose), which is sometimes frustrating as it's always charming watching Christmas light up (pun intended) stargazing on her roof.
Meanwhile, Jim Gaffigan and Viola Davis play characters in transition; one realizes that its time to move on chasing her own career goals while dad begins to understand that he needs to be more of an active participant in the life of his daughter. Let's just say it leads to more breaking down barriers when it comes to shaking up Girl Scout traditions, with all of it sending a good message. Allison Janney may play a cartoon character, but there are certainly some deranged people out there that believe scouts should be some exclusive club reserved for certain people and demographics.
Still, there's nothing really truly outstanding in Troop Zero, as for the most part, it is a kids movie that's not afraid to be so with occasional rough dialogue and a few adult themes. However, what pushes this one from passively average to actually decent is the creative decision to take these misfits and Christmas' fixation on outer space to go all-in with some David Bowie tie-ins and music. I don't want to completely spoil the dance routine they come up with, but it's the definable factor that wins the audience over. The solidarity they share for being weird while embracing David Bowie, a weird individual himself, slaps a smile on the face and is deserving of a badge itself.
Flickering Myth Rating – Film: ★ ★ ★ / Movie: ★ ★ ★
Robert Kojder is a member of the Chicago Film Critics Association and the Flickering Myth Reviews Editor. Check here for new reviews, friend me on Facebook, follow my Twitter or Letterboxd, check out my personal non-Flickering Myth affiliated Patreon, or email me at MetalGearSolid719@gmail.com