Dwayne Johnson is no doubt one of the busiest actors in Hollywood right now, and  next up on his slate is Fighting with My Family being released by Metro Goldwyn Mayer Pictures (MGM Pictures) along with WWE Studios and Seven Bucks Productions. The film, for which he both stars and executive produced, is based on the 2012 documentary The Wrestler: Fighting with My Family centered around WWE superstar Paige and her family of wrestlers. With every great film comes a great score to accompany it, so we decided to speak with composer Vik Sharma about his process working on the film. In the below exclusive interview Vik talks about everything from collaborating with Blur's Graham Coxon to how he got involved with the project.
How did you get connected with or approached to compose for Fighting with My Family? What was the initial appeal of the project?
As with many beautiful things in life, it began in a pub! Stephen Merchant and I were watching the Euro Football Championship and he casually dropped that he was about to embark on a film about wrestling, with Dwayne Johnson producing. He suggested that the score would take its inspiration from hard rock and that it might be an idea to begin thinking about it.
Having worked with him before, there were no second thoughts about accepting the job. Merchant is a thoughtful, engaged and committed collaborator – a joy to work with. I was also excited by the idea that it might involve guitars. Lots of guitars.
How would you describe your score for the film?
It's a homemade stew. We took great pains to try and establish a sound that embodied the spirit of Paige and her family. A quintessential Britishness; a little oddball, rough around the edges. Not slick, but full of heart.
Were you given freedom to choose the sound for the project or were you under specific parameters to work within?
It became pretty clear early on that Stephen wanted to dispense with strings and piano – keyboards of any kind, in actual fact. I think he felt they were too refined for what he was looking for. And he was absolutely right. But strings and piano are the wellspring for composition; you can mess with tempo and signatures, play with thematic ideas and arrangements – generally speaking; they make scoring a little easier. So we had to focus on the guitar and figure out a way of using it in a way that wasn't clichéd. That's when we came up with the idea of bringing in a world class guitar player; one who would enrich the compositions with their own originality and signature sound. What we needed was a marriage of punk wit, DIY innovation and blistering skill and to my mind, the person who has effortlessly demonstrated those qualities consistently over the last 20 odd years is Graham Coxon. So we asked him to join the project and lucky for us, he was immediately into it.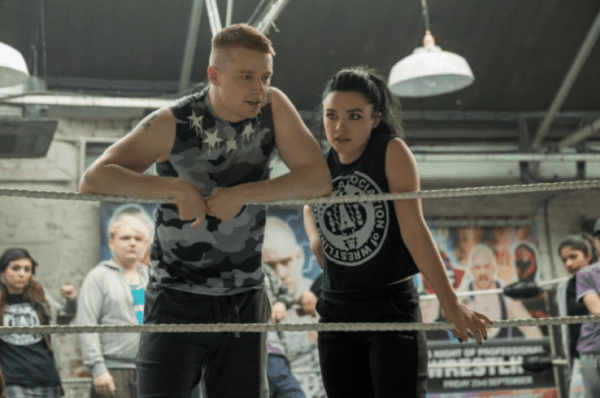 Dwayne Johnson is in the film and was also an executive producer. Did he have any input on what he wanted the score to sound like?
From what I know about its beginnings, Dwayne Johnson approached Stephen with the idea of a film about Paige and her family and empowered him to lead on all creative aspects of the production. Whatever suggestions he or producer Kevin Misher had regarding music were filtered through Stephen before they came to me. It freed us to try a number of different creative avenues before finally landing on something that worked. I'm incredibly grateful to Dwayne Johnson, Kevin Misher and Stephen Merchant for cultivating that approach.
Fighting with My Family is based on the true story of WWE Superstar Paige. Were you familiar with the story prior to working on it? If not, did you go back and watch some of her work?
I didn't know a great deal about WWE prior to signing on to the project. I knew that it enjoyed stratospheric popularity in the U.S., I knew that it nurtured talent like Dwayne Johnson, John Cena and Dave Bautista who have all subsequently become globally recognizable. Of course once I was on board, I immediately watched and enjoyed the original Fighting with My Family documentary and saw some of Paige's biggest fights online. We're all seeking our identity, our place in the world, trying to balance where we come from with where – and who – we want to be. That's why Paige's story resonates, I think. And that's why this film isn't just about wrestling, it's about something more fundamental. It's also why it was so important to give the music an identity that sets itself apart from the sound world of the WWE. We wanted to accentuate that incongruity and demonstrate how, ultimately, Paige being different is not a weakness, but her greatest strength.
What would you say your "go to" instrument was for the film?
I have a beat-up 3/4 size acoustic guitar which I used to play through scenes. Playing with the acoustic, I was better able to hit the emotional beats of the scene. I'd then develop the cue with more instrumentation and then Graham would come in and add magic, single take stuff, trying to keep the sound as spontaneous as possible. A lot of the arrangements utilize a very clean electric guitar sound, with lots of reverb. Playing with distorted sounds could tend towards cliché, so we kept it clean, building up the sound with multiple overlays of guitar. There are some epic moments in the film and by having multiple tracks of reverb drenched guitar we were able to create a big cavernous sound to match.
What in your background inspired to pursue a career in film/television composing? Was it a conscious decision or did you kind of fall into it?
It was a conscious decision. Music runs in my family, so it's always been a big part of my life. As has the moving image. I'm now thinking about that extraordinary scene in the Leo Carax movie, Mauvais Sang, where Denis Lavant runs through Paris to the song, Modern Love, by David Bowie. At its best, the marriage of music and image is thrilling and I'm privileged to have the opportunity to connect the two.
Many thanks to Vik Sharma for taking the time for this interview.
Based on a true story, FIGHTING WITH MY FAMILY follows reformed gangster Ricky, wife Julia, daughter Paige and son Zak as they make a living wrestling together in tiny venues. When Paige and Zak get the opportunity to try out for WWE, the family grabs a once-in-a-lifetime chance to turn their wildest dreams into a dazzling future. However, brother and sister quickly discover that to become superstars, both their talent and their relationship will be put to the test.
FIGHTING WITH MY FAMILY is a heartwarming and smart comedy that proves everything is worth fighting for when it comes to family.
Fighting with My Family is set for release on February 14th in the U.S. and on March 1st in the UK.