Gary Collinson on Warner Bros. and its handling of its DC properties…
Before we get into this article, I want to point out that I am a fan of the DC Extended Universe, and I have always wanted to see it succeed. In my opinion, the DCEU has given us one very good movie (Man of Steel), three decent movies (Batman v Superman: Dawn of Justice, Wonder Woman and Justice League), and one god awful movie (Suicide Squad). I've been very impressed with the portrayals of the heroes so far (even Cyborg managed to win me over!), and while Justice League was far from perfect, it left me wanting to see more of all of these characters. So please, hardcore DC fans, don't bash me as a hater. I've been a DC fan all of my life. Moreso than I have been Marvel. But you cannot ignore the fact that mistakes have been made, and what should have been a superhero universe to rival the MCU is now considered by many to be a failure. The brand has been damaged, and the time to turn things around is quickly running out.
My problem is not with the DCEU itself, it's not with the movies as such, it's not with Zack Snyder, or Joss Whedon, or David Ayer. My problem is with Warner Bros.' handling of the franchise. When Batman v Superman and the initial DCEU slate was first announced, many people praised WB for choosing to go down a different path to Marvel. Instead of establishing its characters through origin stories, we'd be thrown straight into the world, with many of the heroes and villains fully formed. On paper, it was a refreshing approach. However, in reality, it was an attempt to catch up to Marvel without putting the groundwork in. It harmed the product, it's harmed the future prospects of the DCEU, and it has led to a situation where – barring a miracle – a Justice League movie is going to gross less than a Thor movie. The most famous superhero team in history, together on screen for the first time, with three of the four most iconic superhero characters of all time as part of its roster, is going to make less than a movie featuring a B-list superhero who we've already seen in five movies. If you are a true DC fan, you have to be hurt by that. There's really no excuse.
SEE ALSO: Why Warner Bros. should have left Zack Snyder's DCEU alone
Some may disagree that it was a mistake to skip over origin movies. And of course, we did get origin movies for Superman and Wonder Woman, while Batman's origin has already been done to death. That's certainly true, and as much as I liked Man of Steel, we probably could have done without a Superman origin film too. However – take Wonder Woman as an example. It's by far the best-received DCEU movie. There's no doubt that Justice League will have sold more tickets because of it. And Justice League was a better film for it. Let's consider two scenes from the point of view of the casual moviegoer. First, we see Steppenwolf attacking Themyscira, a place we're now familiar with having spent close to half a movie there. He slaughters Amazons, and we see Hippolyta desperately trying to prevent him from stealing the Mother Box. Can the Amazons stop him? Is Diana's mother going to make it out alive?! It's nail-biting stuff. Then for some reason we find ourselves underwater. This must have something to do with that Aquaman guy, right? Oh, it's Atlantis! Who are those mermen that Steppenwolf is killing? Are they important? Wow, that mermaid has some pretty cool powers. Is she important? Is that Amber Heard?! Here's comes Aquaman! Fight scene! And it's over! Now they're in a bubble! What is going on? And why should I care?!
Hardcore fans may have been salivating at getting their first glimpse of Atlantis and Mera, but even as a fan, I found the attack on Themyscira to be much more gripping than the attack on Atlantis. Had we already seen Atlantis, and got to know Mera, and some of the redshirt Atlanteans, this scene would have been so much more impactful. But we hadn't, because the Aquaman solo movie doesn't come out for another year. And now the Aquaman solo movie has the added pressure of being associated with Justice League – the $300 million superhero blockbuster that couldn't gross as much as a Marvel B-lister. What chance does Aquaman have on his own? Sure, hardcore fans will flock to the movie, but hardcore fans aren't the ones who make blockbuster movies a success. That's the casual mainstream audience. Has Justice League given them a reason to rush out to see Aquaman? Well, it may have, for those who actually went to see Justice League, but the problem is that a portion of the casual mainstream audience has already decided not to see Justice League.
SEE ALSO: 10 Justice League Scenes That Were Not in the Movie
We're now seeing diminishing returns for the DCEU, and that is after Warner Bros. has thrown its two properties with the biggest name recognition – Batman v Superman and Justice League – our way. By this point in the Marvel Cinematic Universe, we were about to get The Avengers – the film that really made the MCU explode. Four years into the MCU, Marvel had fed us the appetisers and was about to deliver a satisfying main course. Four years into the DCEU, and Warner Bros. has served up all of its biggest dishes as a starter. Sure, it's been gobbled up with glee by some fans starved of a DC cinematic universe to rival that Marvel's, but it's left a sickly taste in the mouths of many others. Looking at the numbers, it's clear that some have already had more than enough, and may never return. We're now at the 'Phase Two' stage of the DC Extended Universe – the stage where Warner Bros. should be ready to branch out, confident that the likes of Batgirl, Nightwing, Gotham City Sirens et al can at least be moderate successes, if for no other reason than they are part of the DCEU. Instead, we're at the stage where we don't know whether Warner Bros. even plans to move ahead with Batgirl, Nightwing, Gotham City Sirens et al, for the specific reason that they are part of the DCEU.
A lot of the blame for the DC Extended Universe has fallen on Zack Snyder's shoulders, but he's really just a scapegoat. The studio has championed its "filmmaker-driven approach", but in reality, they've let the filmmakers do what they want, then enforced changes after the fact because they haven't liked what the filmmakers have done. Warner Bros.' knew Snyder's take on Superman was divisive, yet they gave him the keys to the DC Extended Universe with Batman v Superman: Dawn of Justice. The studio then butchered the cut, releasing a theatrical version that deserved much of the criticism it received. They gave David Ayer six weeks to write Suicide Squad, then butchered the cut. They pressed ahead with Zack Snyder's Justice League, just weeks after Batman v Superman was ravaged by critics and divided audiences. Sure, they mandated changes, a lighter tone etc., but they did so weeks before principal photography began, which ultimately led to the need for extensive, and expensive, reshoots. Why did they not put Justice League on hold for a few months, rework the script to accommodate the changes and the feedback to Batman v Superman, and get it right in the first place? Push it back a year or two if needed. You've still got a Justice League movie. The demand would still have been there.
SEE ALSO: Why The Flash movie shouldn't be Flashpoint
As it is, it's too late for any of that now, and so we find ourselves at a stage of uncertainty. We're spending ten times the amount of time discussing, analysing and arguing over the behind-the-scenes drama of the DCEU, rather than the movies themselves. We don't know what the future holds for the DCEU beyond Aquaman, Wonder Woman 2, and presumably Shazam. Depending on which rumour sites you read, the planned Flashpoint movie may or may not reset the DCEU. Matt Reeves' The Batman may nor may not introduce a new Batman, and it may or may not be part of the DCEU. Plans are also afoot for a series of standalone DC movies, starting with a Joker origin film… because if the mainsteam audience is turned off by the DCEU, they're sure to return for DC movies that drop the EU part, right? And where would this leave Jared Leto, should the Joker in the origin film be as praised as Heath Ledger's? What will that do to anticipation for Suicide Squad 2, or the Joker and Harley Quinn film?
It would seem there are several options on the table for Warner Bros. at the moment, but all of them have their own challenges. The studio could shrug off the criticism and press on with its plans for the DCEU. Not every film is going to require a $300 million budget, so there's plenty of properties that could turn a decent profit, even if they aren't mega-hits at the box office. At the very least, it looks like they're going to need a new Batman soon, but there are several ways to make that work. But is Warner Bros. going to be prepared to keep pumping money in, faced with the prospect of little-to-no-return on each instalment? They could use Flashpoint as a kind of "soft reboot" of the entire universe, but if the resulting "course-corrected" DCEU turns out to be a bust, there'd be nowhere else to go. They could go for a full reboot, but why recast roles that work, lose a surefire hit in Wonder Woman 2, and risk a huge backlash from both fans and critics of the DCEU? There's also the option of scrapping the concept of a shared universe entirely and focussing solely on standalone movies – but that's not really any different to a full reboot, save for the loss of interconnectivity. Alternatively, they could go down the X-Men route, throwing continuity out of the window and recasting roles here and there as it suits. It's worked pretty well for Fox.
SEE ALSO: The Aquaman TV Show That Failed To Make A Splash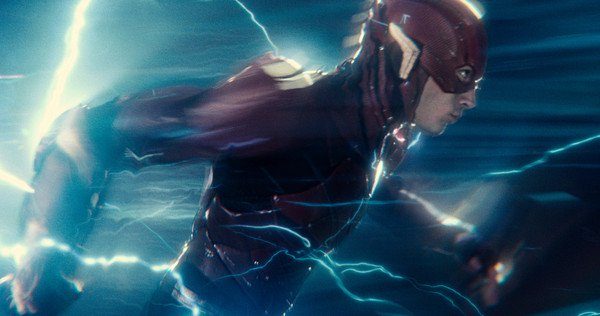 Whatever Warner Bros. decides to do with its DC properties, let's hope that the studio executives take the time to think it through, and plan ahead to get it right. When you have so many aces up your sleeve, why go all in on a ten high? The potential is there. The characters and the stories are there. The DCEU has done very well financially so far, especially when you consider the criticism that it has come in for. Managed right, it could be huge. It SHOULD be huge. And now it is time for Warner Bros. to get its act together and deliver on the promise.
Gary Collinson is a writer and lecturer from the North East of England. He is the editor-in-chief of FlickeringMyth.com and the author of Holy Franchise, Batman! Bringing the Caped Crusader to the Screen.