The Week in Star Wars returns (sorry) with details on The Last Jedi including rumoured runtimes and trailer descriptions, Episode IX comments, Star Wars Rebels' return and more…
Let's kick things off with Star Wars: The Last Jedi and we've got a couple of rumours to run through. First up is a rumoured description for the next trailer, however it does come from a YouTuber via 4Chan so do take it with a pinch of salt. We won't post it here, but you can read all about it via this link. Next up is the supposed runtime of the movie, which comes via theatre chain Cineworld. According to the site's posting, The Last Jedi will run for 150 minutes, making it the longest Star Wars film to date. For comparison, Disney's first two Star Wars movies – Star Wars: The Force Awakens and Rogue One: A Star Wars Story – ran for 135 minutes and 133 minutes respectively…
…Onto more solid facts now, and Domhnall Gleeson has spoken about the movie in a new interview with Collider – describing it as "different". He told the website while promoting Goodbye Christopher Robin, "I was like, 'Wow there's some stuff there which is kind of – not scary but different to what I expected,' and that's a really, really nice thing. I think that's a really positive thing, I think it's important for those films that we don't repeat ourselves. So I just wanted to talk to him, and when I talked to him he was so clear and so confident, not in a brash way but he knew the film he wanted to make, and it was a really lovely thing. Just to sit down with a filmmaker you really enjoy… but to see him, just the confidence of it and his excitement about what it could be and everything, it was really pleasing to see. Very calming. And I got really excited about being in it, and it was a really very, very cool experience working with him. I would love to work with him again, I really enjoyed it." Meanwhile, details have also emerged about Supreme Leader Snoke's force powers…
…And in our first bit of news from New York Comic Con, here's a look at Star Wars: The Last Jedi and The Black Series toys…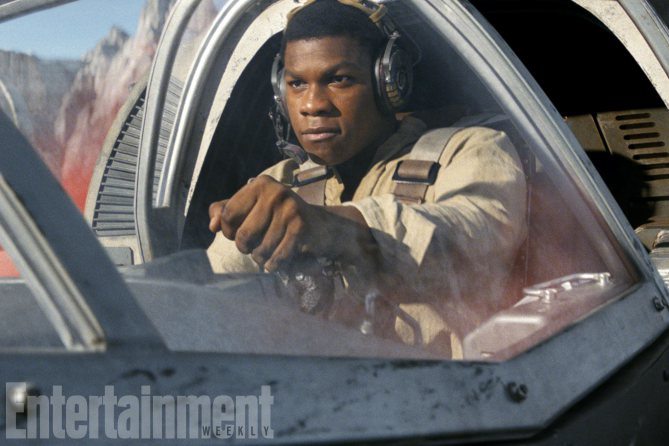 …Looking ahead to Star Wars: Episode IX now, and John Boyega has said the film will be the "war to end all wars". He told Coming Soon while at New York Comic Con promoting Pacific Rim Uprising, " don't know nothing about the script, the story. I don't know where Finn's going, I don't know where Rey is going, but definitely I feel this is the war to end all wars in this movie. I'm interested to know how he will handle that. I'm asking so many questions and I haven't had a chance to kinda sit down and write J.J. a message just to say congratulations and I'm stoked…"
…You can check out the first-ever LEGO BrickHeadz based on Star Wars characters here and here…
…Over to the returning Star Wars Rebels now, and you can check out the trailer for season four here, the official poster here, and the synopsis for the first six episodes here…
…Earlier this year Disney and Lucasfilm unveiled a series of animated shorts entitled Star Wars: Forces of Destiny, detailing the exploits of the female heroes of the galaxy far, far away, and in October Disney Channel will air the shorts as two special half-hour compilations, which includes a further eight shorts. Check out the trailer here…
…Moving over to Star Wars Battlefront II now, and a trailer hit the Internet this week [watch that here] along with a clip featuring the Emperor which you can check out here…
…During Lucasfilm publishing panel at the New York Comic Con, fan favourite author Timothy Zahn is once again tackling Grand Admiral Thrawn with a sequel to this year's Star Wars: Thrawn novel. The new book will see the Grand Admiral joined by another iconic Star Wars villain in the Dark Lord of the Sith himself, Darth Vader. Although further details are being kept under wraps, Zahn did reveal that he's already finished the book and turned it in last month…
…Speaking of books, and a short story by Paul Dini has revealed the meaning behind the Darth Vader line from Star Wars: The Empire Strikes Back surrounding Boba Fett and disintegrations…
…You can also read Ricky Church's review of Star Wars: Phasma here…
…And finally in comic book news, IDW Publishing and Lucasfilm announced that they will be expanding their Star Wars Adventures comic book line with a new weekly comic book series entitled Star Wars Adventures: Forces of Destiny, and Nerdist are reporting that Alan Tudyk has co-written a back-up story for his Rogue One: A Star Wars Story character K-2SO in IDW's upcoming Star Wars Adventures #3.
That's all for this week – may the Force be with you.
Luke Owen is the Deputy Editor of Flickering Myth, the co-host of The Flickering Myth Podcast and the author of Lights, Camera, GAME OVER!: How Video Game Movies Get Made. You can follow him on Twitter @ThisisLukeOwen.